WickedLocal Westborough
By Chris Bergeron
Daily News Staff
UXBRIDGE – "Kay five Zulu Delta,'' said Randy Thompson. "This is Kay five Zulu Delta.''
Repeating his call sign and carefully turning the dial of his Elecraft radio, the lifelong ham radio enthusiast from Uxbridge listened as "Sugar Poppa two Yankee'' – "Mark from north Poland" – greeted him through a patch of static.
"I love knowing someone can hear me on the other side of the world,'' said Thompson, sitting before a bank of radios and amplifiers in his home radio station. Just beyond his swimming pool, three antennas – 100, 90 and 40 feet tall – rose from the woods surrounding his house.
"It's a little bit like fishing,'' he said. "You never know who's out there and who's going to call back.''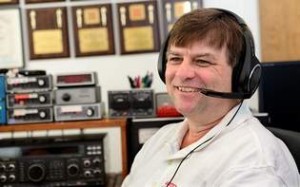 As co-chairman of the World Radiosport Team Championship 2014, Thompson will be bringing that excitement and drama to New England this week as 59 teams from around the world compete in the grueling, day-long competition known as the "Olympiad of amateur radio."
This week's event will be the first quadrennial radiosport competition held in the U.S. since 1996. Prior WRTC contests were held in Russia (2010), Brazil (2006) and Finland (2002).
Read full article and view video: http://westborough.wickedlocal.com/article/20140707/NEWS/140707939/
Also appeared in Milford Daily News. http://www.milforddailynews.com/article/20140707/NEWS/140707939