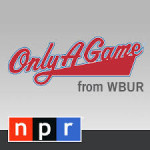 Only A Game (OAG) is an award-winning weekly radio sports magazine hosted by veteran National Public Radio (NPR) commentator Bill Littlefield. Only A Game is radio for the serious sports fan and the steadfast sports avoider. Produced by WBUR in Boston, Only A Game puts sports in perspective with intelligent analysis, insightful interviews and a keen sense humor. It has a history of covering unusual sports in the New England area.
OAG producer Karen Givens visited WRTC2014, interviewed some of the competitors and visited several station sites. She has informed me that WRTC2014 will be a feature on this week's show!
OAG web site: http://onlyagame.wbur.org/
Only A Game is broadcast nationally in the United States by 233 stations. See station list at http://www.wbur.org/syndication?program=onlyagame
The show is also available on iTunes podcast and from the web site.
The initial show time is 7am EDST, but there are additional replays on Sat evening and on the West Coast. Check the station list above for show times.
The audio link should be available at http://onlyagame.wbur.org/section/radio/2014/08/09 after the show airs.
This is a very popular show with a wide following. We are very excited to have WRTC2014 be featured.